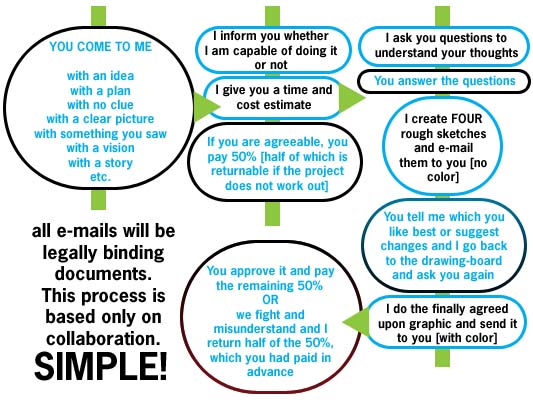 The workflow and process are negotiable, charges are negotiable but behavior and payment terms are not negotiable. Payment terms still might be negotiable, behavior is not - under any circumstances.
Both you and me have the choice to terminate the project.

If you terminate the project for whatever reasons, half of the 50% that you paid upfront will be returned.
If I terminate it because of personal reasons, I will return the full 50%.

If the project is terminated if I fire the client (oh yes that's not impossible!), nothing is returnable.

If a project gets delayed because of reasons at the client's end I shall not be liable - whatever payments have been made will not be returned.
Deadlines are fine, "extinct" ones will be expensive.

I work with the assumptions of trust, professionalism and collaboration.
You will have to try it to know it.
The Customer is God, the Service providers, the followers. No God, no followers. No followers, no God.
And payments have to be made within 15 days of final project delivery.
I could go on, but it's easy to get the drift!
And Oh! If the client doesn't pay what he/she had agreed in the first place - the name of the person, with the name of the organization with links to their websites and in really bad cases - even their e-mails will be put up on a separate page - the "Who to Avoid" page!